When a tooth is lost and not replaced, it is a natural for the bone to recede and tissue to shrink. This natural process can create an altered facial appearance, muscle weakness, and a gum defect in the mouth which could affect eating and digestion.  Dr. Eric Linden can correct this defect with ridge augmentation, laser therapy, and bone grafting with or without a dental implant.  The use of the dental laser minimizes the post operative discomfort and accelerates the healing time significantly.
Careful management of extraction sockets after tooth extraction prevents unsightly bone loss and provides a better cosmetic outcome for tooth replacement.
Recapture the natural contour of your gums and jaw.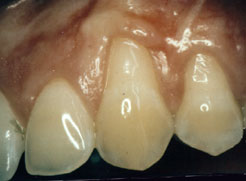 Before soft tissue graft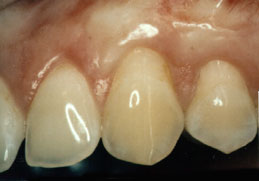 After soft tissue graft
Sometimes when you lose one or more teeth, you can get an indention in your gums and jawbone where the tooth used to be. This happens because the jawbone recedes when it no longer is holding a tooth in place.
Not only is this indentation unnatural looking, it also causes the replacement tooth to look too long compared to the adjacent teeth.
A periodontist can fill in this "defect" with a procedure called ridge augmentation, recapturing the natural contour of your gums and jaw. A new tooth can then be created that is natural looking, easy-to-clean and beautiful.