Offices on the Upper West Side of Manhattan and Northern New Jersey.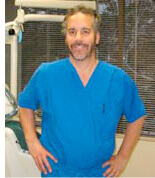 Dr. Eric Linden is a Periodontist with 30 years' experience in periodontal and implant specialty practice. Over the last 15+ years, he has performed thousands of procedures with very predictable and successful outcomes using several different lasers, including LANAP and new laser protocols for the treatment of periodontal disease and peri-implantitis. He is a Clinical Professor of Periodontics and Implantology at Columbia University School of Dental Medicine and Columbia Presbyterian Medical Center (more). He was the first periodontist to perform Laser Periodontal Surgery (LANAP) in New York City and New Jersey, and is respected by his colleagues as a pioneer in laser periodontics. He also specializes in bone regeneration, dental implants, and biostimulation. When necessary, he employs traditional periodontics. Dr. Linden is often requested to review research, clinical papers, case reports, and manuscripts for publication in the "International Journal of Periodontics & Restorative Dentistry", Dentistry Today, and Implant Practice – US.
Dr. Linden is one of the first periodontists in the world to use four types of lasers. Each of has a specific application in the treatment of periodontal disease and peri-implantitis. Dr. Linden uses whichever is most appropriate for each case:
Thanks, in part, to Dr. Linden's efforts to popularize the laser and instruct others in its use, more and more dental professionals are acquiring and using the technology. There are nearly 1,800 doctors in the world qualified to use the Nd/YAG (neodymium-doped:yttrium, aluminum, and garnet) laser for the advanced treatment of periodontal disease and peri-implant disease. But Dr. Linden is among only 29 officially certified by the Institute for Advanced Laser Dentistry to train and teach other dental professionals in its use.
He has now helped thousands of patients, treating gum disease, performing tooth extractions, implants, and other periodontal procedures with various dental lasers.
Most periodontists still treat advanced gum disease with traditional surgery…